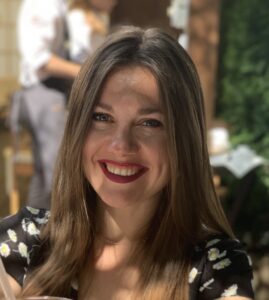 Founded by Vita Shablii, a marketing aficionado with 12 years of invaluable experience, we have collaborated with renowned companies such as APPLE, HP, PANASONIC, HUAWEI, SAMSUNG, PHILIPS, DELL, ACER, ASUS, LENOVO, LG, CISCO, MICROSOFT. Our journey has been fueled by passion and driven by a desire to help businesses like yours thrive in today's competitive landscape:
It was not just bright, it was a fundamental period in my life, which gave me a vision of my further movement, gave me an understanding of who and what I should strive to be
…Vita's journey began as the CMO of the largest law firm in Ukraine, where she honed her marketing skills to perfection. From there, she ventured into international recruiting, crypto, and IT projects, expanding her expertise across diverse industries. Launching over 15 brands for various niches, Vita proved her ability to navigate the ever-changing marketing landscape with finesse:
…at a certain point, I felt the world began to respond to me with sincerity and generosity of new knowledge and opportunities, for all the efforts that I put into each of my projects.
And that's when the fun began
Life took an unexpected turn, opening a new chapter called Scratch2Catch
Among the main areas of focus at Scratch2Catch are the development of brand and marketing strategies. The team at Scratch2Catch understands the uniqueness of each brand and tailors strategies to unlock their true potential. Through close collaboration with clients, the talented marketers immerse themselves in the client's vision and goals, crafting strategies that drive their business forward.
But that's not all. Scratch2Catch excels in UGC marketing and influencer marketing, utilizing the power of user-generated content and influential personalities to establish authentic connections between brands and their target audience. In today's digital age, authenticity is paramount, and Scratch2Catch leverages UGC and influencers to amplify brand reach and impact.
As technology continues to evolve, Scratch2Catch stays ahead of the curve by offering expertise in the creation of chatbots and advertising campaigns. The chatbot solutions provided by Scratch2Catch enhance customer experience, streamline operations, and offer round-the-clock support. Additionally, the creative team at Scratch2Catch develops captivating advertising campaigns that leave a lasting impression, drive conversions, and propel businesses to new heights.
At Scratch2Catch, the values of truth, transparency, and trust are held in high regard. Scratch2Catch isn't just a marketing agency; they are trusted partners on the journey toward success. Scratch2Catch serves as the wind beneath the wings, propelling brands to greatness.
Embark on this exciting adventure with Scratch2Catch. Contact the Scratch2Catch team today. Your dreams are the fuel that drives Scratch2Catch, and together, they will transform those dreams into reality!